Today I was suppose to post about our visit to see Santa Claus, but I didn't realize that I would have to wait until later this week to actually get the pictures and I didn't take any of my own.
Except for this one:
Leroy's foamy vomit that my husband stepped in and smeared all over.
I promise to share the real Santa picture as soon as I get it! It involves Leroy in a sled with Santa!
In other fun news:
Let's take a break from all the holiday madness and get to know each other!
On December 18th there is going to be a Meet The Blogger Hop. This special hop is intended to be a great way for bloggers to share a little bit about themselves so that other people can get to know them better and maybe, for you to learn something about a blogger that you never knew! It's been discussed recently with a few blogging friends of mine that have been experimenting with certain concepts, that people seem to respond when we show pictures of ourselves. It allows them to connect a little better with us and if your a blogger, you know that a good connection with your readers is what you strive for. The main purpose of my blog is too share pictures of Sherman and Leroy but sometimes it's fun to share pictures of my family and even myself with the boys, because maybe you want to see us out there having fun together.
Anyway…hopefully you get what I'm sayin.
The Meet The Blogger Hop is hosted by the following bloggers:
And here are the badges that you can use for your blog, if you plan on joining in!
PET CRAZY BADGE
DOG CRAZY BADGE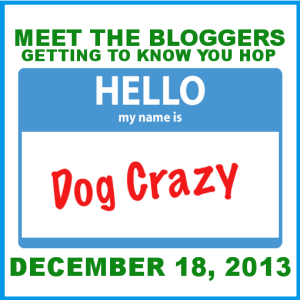 CAT CRAZY BADGE
Below is a list of the guidelines, which are are super simple.
1. The post must include a current photo of the blogger.
2. Answer at least five, (but more if you'd like!) of the following questions:
What's your favorite non-animal related book?
What's your favorite non-animal related movie?
What's your favorite non-animal related food?
Who's your favorite actor?
What's one thing you have to do every day?
What makes you feel fabulous?
What do you wish you were more skilled at?
What's your favorite holiday?
Favorite meal?
What do you like to do in your free time?
What one word would people who know you use to describe you?
If your pets could talk, what one word would THEY use to describe you? What is one thing you've done that you're most proud of?
How is your pet most like you?
What can your body do for you that makes you most proud?
If you could change one thing about your life what would it be?
Other than blogging, what are three things you do that bring you joy?
What's one thing you could do to be more kind to yourself?
What drives you nuts about your pets? What melts your heart?
If you didn't have your current pets, what pets would you choose to have?
The hop will be live on December 18th and there will be a linky tool so that you can add your post when it's live.
Hope to see some of you there so that I can learn more about you!
Next we have the 9th day in the Advent Calendar For Dog Lovers!
It's time for the Advent Calendar for Dog Lovers hosted by Kol's Notes, Heart Like a Dog, My Brown Newfies, My GBGV Life & Bringing Up Bella! 24 giveaways in 24 days, plus a grand prize worth more than $500 – who wants to win? Today's giveaway is sponsored by Wags and Wiggles. You could win adorable handcrafted accessories for you & your dog. Click here to check out the Advent Calendar and enter today's giveaway
And now onto the Monday Mischief Hop!
Welcome to Monday Mischief – The pet blog hop that wraps up the weekend! This Blog Hop is brought to you by Alfie's Blog, Snoopy's Dog Blog, and My Brown Newfies.
Comments
comments