Welcome to the Meet The Bloggers Hop!
This hop was created so that others can learn a little bit more about the blogger behind the blog. Most of us write about our pets because we are, after all, awesome pet bloggers and this is what our blogs were created for, but today we take a little break and you get to learn a little more about the blogger! To read more details about the hop and for the list of questions you can pick from to post, go here.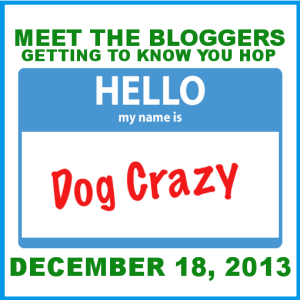 Throughout this post I'll share some pictures of me from the past few months taken on my cell phone, because that's where some of the silliest pictures come from.
I'm pretty much an open book on this blog. I've shared pictures of myself here and there and I tell you a lot about what is going on in my life, but let's dig a little deeper.
What one word would people who know you use to describe you? Goof. Obviously, I'm a bit of a goof. I like to laugh and have fun.
What do you wish you were more skilled at? LIFE. I'm accident prone and stupid shit just happens to me, so over the years I've learned to just accept that. Take the other day for example: my husband and I were going down the escalators at the mall and all of a sudden I began to fall backwards. I was scrambling to try and get my balance and laughing and my husband had no idea what was going on. Poor guy.
Then the other day we were at my sister's house and I had to climb up in one of her barn lofts to get something and I got stuck in mid climb, feet dangling, and I was laughing so hard that I couldn't move so my husband had to push my ass the rest of the way up or I was going to plummet to my death, or break something.
Good times. Good times.
I like to wear hats.
Santa hats. Cowboys hats and of course my all time favorite Cleveland Indians hat.
I recently left my long time job as a veterinarian technician and finding a new job hasn't been all that fun.I haven't had to search for a job for a long time and each time I get rejected it hurts a little bit, but I'm also a firm believer that everything happens for a reason.
So I will keep trying.
Favorite meal? My favorite meal is pork roast, sauerkraut and dumplings. YUM! I'm not allowed to make it at home anymore because my husband says I wore it into the ground, so now I have to go to my Mom's to eat it. She makes it just about every Sunday, so that keeps me happy.
What do you do in your free time? I'm more of a homebody but if we do venture out I like to have fun, drink a little beer and listen to guys with big hair sing 70's music.
What's your favorite holiday? My favorite holiday is Valentines Day. I'm a sucker for red and pink hearts AND LOVE, and while I know that it's another heavily commercialized holiday, I just love the thought of celebrating the ones that you love so much! And hearts make me smile 🙂
I normally can be found wearing jeans, but for special occasions I will put on a dress.
Nicknames (I made this one up and it is not included in the list) My nicknames are Jenny Jugs (which in no way refers to my boobs), Jenny From the Block and in high school they called me Whitey. The reason behind that name is that one day when we were at the beach some guy threw sand down my shorts and noticed that my ass was glowing white. I had a pretty good tan going on that year but I didn't tan my ass.
Yeah.
So my nickname in high school referred to my glowing white ass and everyone knew it.
I think that's about enough on me. I probably shared too much, or maybe it was just enough.
Don't tell me. I don't want to know.
I'm a dork and I know it and I do have a small life outside of the blog and sometimes I even go places without Sherman and Leroy!
The Meet The Blogger Hop is hosted by the following bloggers:
Now let's go meet some other bloggers!